The other day I was thinking to myself, "Self," I thought, "you used to do a lot of cooking and writing about it and stuff." "Hm?" I thought back, distracted by organizing work for three different jobs, including my acting career. "Maybe," I thought. "Maybe you should do that again." I looked around my tiny apartment, in desperate need of a good cleaning, and thought back, "Sure."
And what better excuse to do some cooking than when Thanksgiving rolls around! Winter squash is all the rage, and with the climate getting colder (even in Southern California!), a soup might be in order. Here's one now!
Butternut Squash Soup
Serves 8.
Preheat oven to 400°F. Cut a
3- to 3½-lb. butternut squash
in half and scrape out the seeds with a spoon. Cut it again into quarters and lay skin-side down on a baking sheet. Brush on
1 tbsp. melted unsalted butter (or vegetable oil, vegans)
and sprinkle with
1 tsp. ground white pepper
and
1 tbsp. kosher salt
. Roast the squash in the oven until tender, about 35 min. Remove and let cool slightly.
Taste the soup!
In the meantime, drop
3 tbsp. vegetable oil
in a large pot over medium-low heat. Stir in
the chopped white part of 2 large leeks
and
4 tsp. minced fresh ginger
. When the leek is somewhat tender (5-10 min.), scrape the butternut squash from its skin with a spoon or butter knife into the pot. Stir in
4 c. vegetable broth
and
¼ c. honey (or raw sugar, vegans)
, cover, bring to a boil, then turn it down to a simmer for 20-25 min. Take it off the heat and puree until smooth. Stir in
½ c. coconut milk (or regular milk, non-vegans)
and
¼ tsp. nutmeg
. Garnish with
a few parsley leaves
. A dollop of sour cream might also be appropriate. You know. If you're into that sort of thing.
A note on scraping the squash
: I always find the squash a bit difficult to deal with, especially over a steaming pot of sautéing leeks and ginger. It might be a better idea to scrape the squash into a separate bowl before you even begin sautéing. Beware that the skin can be quite thin and doesn't like to let go of the flesh very easily sometimes.
Happy Thanksgiving, everyone!
---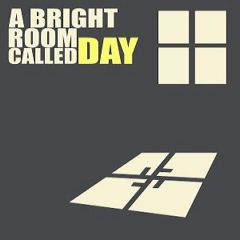 A Bright Room Called Day
is a drama by Tony Kushner. Premiered at the Eureka Theatre in San Francisco in October 1987, directed by Oskar Eustis.